Learn, Acquire, then Apply… Looking back at my life this is by far the best advice I can give in four words and I believe one of the most important lessons in life I have learned. I come from a single family, growing up with my mother and older brother. I learned a lot about responsibility and working together during my childhood years and I wouldn't give any of those memories back for a second. When I was young I was always driven to do more and began early with my first job at age 14 as an IT assistant for a summer job. I used my hobby at the time for practical use and my skills and know how showed relevant to the company as I was able to help them with daily tasks.
In addition to technology I was also interested in the arts of ceramics, painting, sculpture, photography, and digital media. I then sought to attend art school and I went to the Rogers Middle School for the Creative and Performing Arts (CAPA) for three years.  After middle school I then succeeded to The Pittsburgh High School for the Creative and Performing Arts (CAPA) for an additional four years. During this time I made myself busy picking up jobs in the evenings learning about new and emerging technologies. I remember when USB 2.0 came out and I knew from that moment that it was going to become the new standard in every machine. Now you can't even find a serial port or printer parallel port; mostly all technology either communicates through USB or wireless.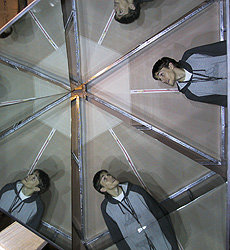 With the experience gained in the arts I have not only taken away an artistic skill but have also acquired an artistic learning. This was my grassroots foundation for understanding and developing ideas outside the box or different perceptions/angles to view things. Eventually computers became more than a hobby. I started developing advance skills within the understanding of hardware and software. I started fixing computers for fun and with every given experience I learned something new. In a way I started to make my own business fixing computers but I never sought to make a computer repair company.
During my senior year in high school entered in the All City Art Show and won an art scholarship to go to the Pittsburgh Technical Institute (PTI) from the Manchester Craftsman's Guild.  I won the scholarship to pursue my education there and less than one month after graduating high school, began classes. When I attended PTI I excelled in the Computer Forensics and Network Security program. Here I learned things not typically acquired in the field of Information Technology. I picked up my internship at the Greater Pittsburgh's Conventions and Visitors Bureau (GPCVB), now known as VisitPittsburgh. While completing my Associates of Science degree, I graduated with honors and with my CompTIA Security+ Certification. Shortly before graduating I accepted an offer working for a local marketing and design firm Pipitone Group where I was a Systems Administrator for almost 4 1/2 years.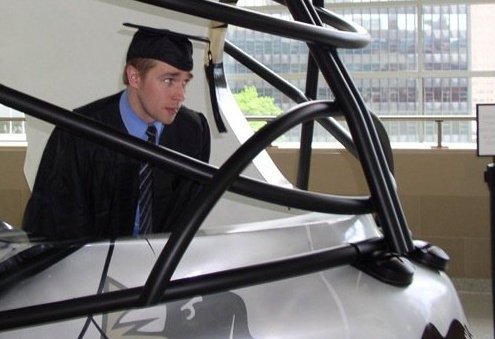 After seeking more advancing opportunities I sought a position at the University of Pittsburgh were I was a Technical Consultant working in various departments across campus; including Consulting Services, Computing Services and Systems Development (CSSD), the Office of Measurement and Evaluation of Teaching (OMET) and the Center for Public Health Practice (CPHP).  After working at the University of Pittsburgh I was approached by Carnegie Mellon University for a position as a Senior Systems Engineer which the opportunity and advancement I could not turn down.  Being at Carnegie Mellon University I work with some of the most amazing people and continue to face and overcome new challenges every day in this growing, yet forever changing environment.  Being at Carnegie Mellon University I get to work with very exciting technology and software applications.  We truly do stay on the edge of providing the best solutions for our students, faculty and staff.
After I earned my Associates degree, I immediately enrolled to pursue my Bachelors of Science in Information Technology at Point Park University which I completed in the summer of 2011. I remember during my first semester I decided to go full-time, but then discovered that working full time and attending school full time did not provide me the time to adequately absorb the experience. I found myself working late, going to school late, and studying late. The next semester I decided to go to school part time. Although it took me longer to complete my Bachelors degree I made the right choice.  I was also asked by Point Park to be published as a student success story.  The publication was titled "Bachelor's Degree in Information Technology Helps Alum Obtain Senior Systems Engineer Position".  I was very honored to support my alma mater and share my story of the school.
I always keep busy and always finding something to fuel my drive to learn which takes me back to my database class at PTI.  We were learning how to make databases with SQL code and I believe my teacher Charles Eltringham to be one of the most phenomenal teachers I have ever had. Every time I went to his class I felt like I read an entire book. He taught me so much information in such a constructive and concise way, all while giving me the drive to learn more about the topics he taught. During my third week of class I applied what I learned and was able to find different techniques to building databases. When it came time for our final project, my teacher asked me if I wanted to complete the project on my own because I had already finished half the project on my own, before he assigned us groups. I accepting this challenging task and wrote all the tables, queries, relational schema's and reports, all in SQL code. I did an excellent job on my project and finished it in time.
When I finished the assignment I felt so accomplished because I took a group project and completed all aspects and all designs on my own. This project really showed me that there is no limit to my learning potential. Most importantly I learned that I have to be passionate about what I do and always willing to try. If I have passion and the desire to learn I firmly believe I will succeed, regardless of the circumstances. I always look to the positive side and avoid dwelling on the negative because that will only bring me down.
One of my favorite quotes is from the great philosopher Aristotle who said, "For the things we have to learn before we can do them, we learn by doing them." I believe this to be true for anything, in order to learn, practicing and constant testing will help develop the skills needed to succeed.
This is just a short list of individuals that have and continue to inspire my life.
Heather Caskey
Norman Brown
Ralf Carr
Fred Kitner
Joan Mosey
Charles Eltringham
Jason Pope
Jake Davidson
Last Updated: 2012-08-03